Seating Plan vs Escort Cards vs Place Cards
When it comes to planning a wedding, there are many details that need to be taken into consideration. One of the most important is seating arrangements. The way you decide to arrange your guests at your wedding can have a huge impact on how much they enjoy themselves. We're here to help guide you through the essentials of choosing the right seating arrangement for your special day.
Wedding Table Plans
Also known as wedding seating chart is a visual representation of where each guest will be seated at the reception. The benefits of using wedding table plan include being able to easily make changes and accommodate last minute guests, as well as helping keep track of who has RSVP'd and who hasn't. To create a seating chart, you will need a list of all your guests along with any dietary preferences or allergies they may have. You can use this list to assign them seats according to their wishes and group them together accordingly. Which work great accompanied with wedding place cards.
You can go for luxury acrylic wedding table plan which can be presented on an easel decorated with flowers.

or printed on mirror like this one

mirror table plan from pinterest
or if you are going for a rustic wedding this rustic table plan is gorgeous!
Escort Cards
Escort cards let each guest know what table they should go to once they arrive at the reception, but it doesn't assign them a specific seat that way everyone can mingle around freely without worrying about where they should sit. Benefits of using escort cards include giving guests more freedom and making sure that everyone feels comfortable in their own skin. You can also have place cards at the table too if you want your guests to have assigned seats. We have some great escort card ideas below!

stunning escort cards from pinterest


Looking for unique wedding place card ideas?
We have some great escort card ideas, firstly wedding champagne name tags. These place cards with table number provide a bit of fun for your guests. Champagne escort cards not only help guests find their seat, but also ensure guests have their glasses ready for the toast to the beautiful couple. The best way to pull off this trend is do the champagne flutes with each guest name along with their table number like seen in the picture.


You can also add a meal icon if you are looking for meal place cards for small extra fee. They can be displayed on the entrance of the reception on a table.

Get your escort place card with meal choice here
Alternatively you can choose wedding place cards.
Place Cards
Place cards are used when there isn't enough room for both a seating chart and escort cards, or when you want each guest to have an assigned seat within their table groupings so that everything is organized ahead of time for easy navigation during dinner service or speeches. Place cards let each guest know which seat is theirs so that there is no confusion as far as who goes where during mealtime or other events throughout the evening. Benefits of using place cards include making sure that everyone knows exactly where they should sit and eliminating any tension or awkwardness among unfamiliar people who might not know anyone else at the event outside their immediate family members or friends from college/work/etc..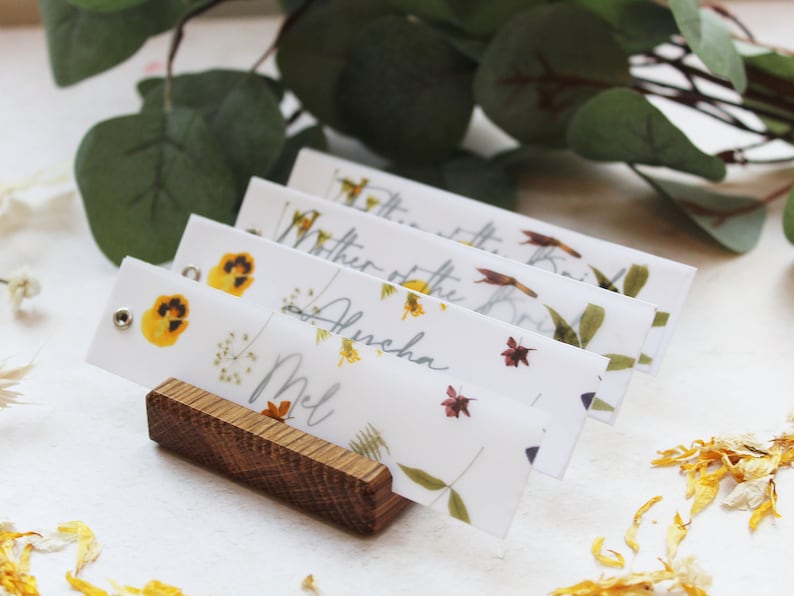 Etsy
Heres some examples of ours



Here is the link to our acrylic wedding place names
Making sure your wedding day runs smoothly requires careful planning and attention to detail—and choosing the right seating arrangement plays an important role in making this happen! Whether it be through creating a seating chart, using escort cards, wine glass name tags, or utilizing place cards; whichever option works best for your particular venue size and style is ultimately up to you! With these tips in mind, we hope this guide has helped demystify some aspects regarding these three essential elements related to weddings—so go forth confidently knowing that whatever choices you make regarding your special day are surefire winners! Good luck! :)